McKinsey predicts that by 2030, artificial intelligence (AI) can equip retailers with the tools they need to automate their decision-making processes. This will allow them to make informed decisions in real-time. Also, research has shown that a whopping 80% of consumers prefer shopping at an online store where personalized product discovery journeys are available using visual AI. Even if your store attracts like-minded shoppers, it is not realistic to assume that each customer would enjoy the exact same products, colors, styles, and designs.
In today's competitive business world, visual product discovery journeys aim for win shoppers' loyalty. So how can online retailers gear up for this?  
Below are a few examples of where and how computer vision are applicable in online retail for the most significant added value in the realm of personalization and beyond : 
Image Search Using Visual AI
Visual Search is an improved alternative to traditional text-based search tools in the retail business. It typically comes with a highly convenient, user-friendly function: visual and/or image search. This is where the visitor uploads an image of a specific item. The goal in mind here is of 'fishing it out' from a retailer's vast catalog. This image can be a screenshot from a camera roll, a picture sent by a friend, or an image taken in real-life. It thus flexibly combining real and virtual worlds!
The reason why smart search is a must-have is simple. Shoppers do not always have the right words to describe the product they need. This is especially common in the fashion or home and living industries. With tens and thousands of design terms, customers may not be able to articulate their preferences for 'cat-eye glasses', 'drop-waist sleeveless dresses', or 'yellow, L-shaped tufted sofa'. A simple image upload would be a powerful way to address this issue.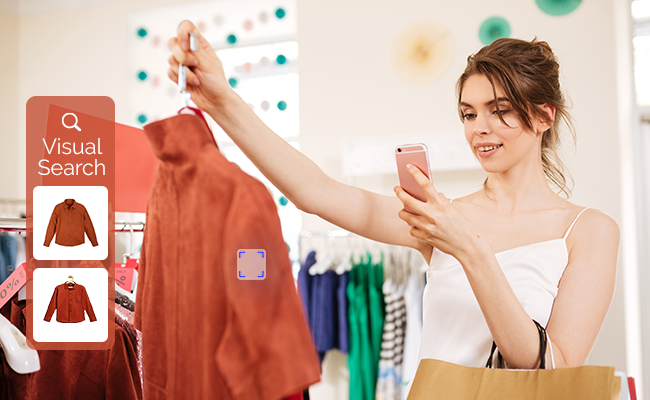 The visual element of smart search is also helpful for sophistically designed items. Even if shoppers were design-savvy, it would feel tedious to articulate certain labels. An example of this would be 'D-cut vegan faux leather mauve handle bag with arched mahogany carved handle'. For customers who do not know English at a proficient level, a smart, visual search also implies reaching results without having to use potentially inaccurate translation software. Therefore, it goes to say that a visual-based AI can save customers from wasting precious time on keyboards. 
Visual AI Recommendations
Computer Vision technology does not only allow consumers to identify what they seek. Rather, it uses that as a baseline to encourage product discovery.
It can invite customers to 'shop the look', 'complete the look', or browse 'visually similar' items. It does this from your product listing sites and all the way to the checkout page. To illustrate, imagine a customer throws in a pink denim skirt in their cart. Here, the system will suggest a matching jacket to go with it. In this situation, the customer may end up loving the recommendation. You never know!
The AI solution can similarly pick up the idea that the customer may be into soft, feminine, or denim-based styles. Thus it will introduce products that match that line of fashion. In cases where the consumer shows interest in a product that is temporarily out of stock, this AI solution can recommend alternatives for the time being. This is because why wait till restock when sales can happen right now?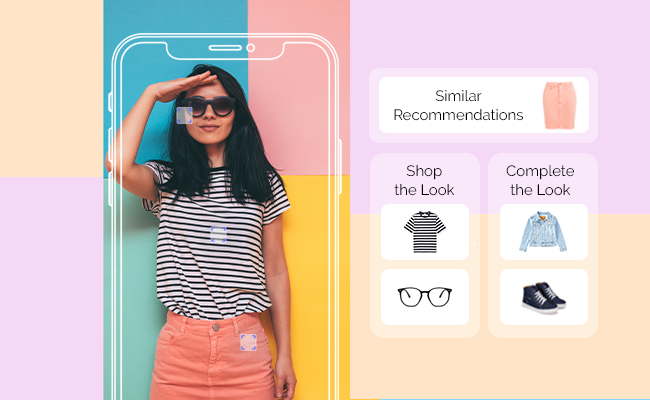 Using a visual recommendation approach identifies and organizes consumer data at scale effectively. It allows retailers to garner accurate insights into consumers' preferences via click history and cart activity. Knowledge of what tends to catch the eye of consumers will help businesses plan more efficiently. It may also play a role in other forms of marketing. These include 'don't forget me' retargeting emails to customers who abandoned their shopping carts. 
Think about it this way: brick-and-mortar stores require store assistants to introduce products that the consumer may find useful but not know about. The extended function of smart recommendations is to equip online retailers with a helpful online store assistant. This is meant to shift customers' attention to new items they never knew they needed. 
Visual Merchandising
Fashion luxury brands operating offline stores globally hold themselves accountable to very high standards. These standards are regarding brand quality and ensure a consistent brand image across their stores. They have mandates that the product display on shelves/walls follow a consistent layout and aesthetics in each store. Typically, this plan is created by a central visual merchandising team. This is further shared with store managers globally for every new collection launch. A lot of this work is done manually with associates and managers tasked with this. It is time-consuming and several man-hours are invested that can be instead reallocated to provide a differentiated customer experience
Leveraging computer vision solutions can provide real-time information about your store environment. The solution can automate their in-store shelf display audit process and launch global campaigns faster. The in-store staff can scan the entire wall using their hand-held device camera. It instantly verifies if the product placement is correct. If a product is out of stock in the store, it recommends other available suggested replacements.
AutoTagging
Visual AI can also be powerful when it comes to product tagging. For online retailers with thousands of products in their catalog, manual product tagging is time-consuming and implies huge operating costs. Human-led product tagging often comes with errors that businesses simply do not need.
Smart tagging addresses these issues. Using visual AI features, smart tagging helps retailers tag thousands of products with thousands of attributes (whether relevant to style, cut, material, design, color, size, make, or model). This enriches business catalogs and makes products multiple times easier to find. 
When operated using visual AI, these tags can improve the search accuracy of an e-commerce platform. This will consequently leave an impact on consumers' shopping experience. 
Augmented Reality (AR) and Virtual Reality (VR)
Although still a relatively new application, both augmented and virtual reality can play a significant role in the success of an e-commerce platform. This is particularly the case for fashion and beauty brands. In online spaces, where the product isn't directly tangible, consumers can upload a picture of themselves and 'try on' the product virtually. This is safer and more hygienic for the retailer, especially in times of Covid. It may also turn out to be less time-consuming for the consumer, as try-ons take one simple click. No more nightmarish long lines in front of the fitting room!
Improved Visual AI Tools, As Close As One Click Away
At ViSenze, we aim to help online retailers create exceptional shopping experiences while uplifting AOV and increasing conversions. Having worked with 900+ global retailers, our AI/ML experience and models have delivered results consistently. Some of these include major brands in the fashion and home & living on several computer vision applications. Feel free to read more about our industry-leading product Visual AI SaaS platform. You can also simply request a demo to see what ViSenze can do for your business right here.